This post is also available in:
Italiano
Deutsch
Français
Español
Packly allows slight changes to the die-lines created online. It is possible to add cut-outs, folding lines, windows (only cut, without plastic) or other small variations on it. Each change must be always approved by the support team before purchasing. At the moment we don't produce completely personalized die-cut templates.
With regards to the variations, you might ask for a feasibility check by sending the edited die-line to [email protected]. Firstly, you should download your custom die-line on Packly and edit it. The change must be entered on the die-cut template layer, attributing a spot color corresponding to the type of change required (in the order cut, crease, perforation):
Custom-Cut
Custom-Crease
Custom-Perf
The "Custom-Cut" spot color must be set to the stroke selecting fill "none".
The name of the spot color must be written exactly as above, while you can choose the display color you prefer based on your design. At the moment the change on the die-cut template is not visible in the 3D preview.
The window must be positioned:
– at least 10mm from the cut/crease lines for SBS cardboard and SBS PE coated
– at least 15mm from the cut/crease lines for Corrugated
The distance between the cut, crease, perforation lines should be at least 3mm.
In the case of multiple windows, the above distances must also be maintained between the holes.
After editing the file, save it and send it back to us including the following information:
– Box type
– Dimensions
– Material
– Number of pieces
– Manufacturing time
– Type of modification required (cut-outs, folding lines, windows)
Watch the tutorial to learn how to do step by step.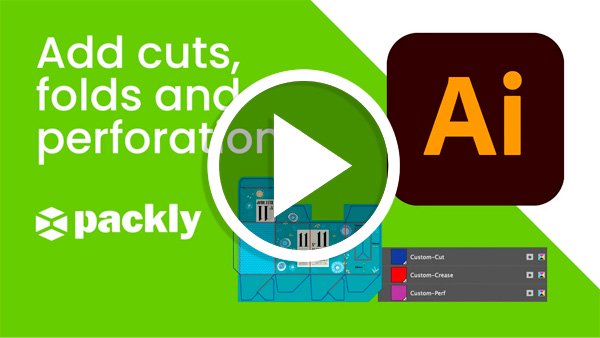 As soon as we will get the file, we will check its feasibility and complexity and we will send you the custom quote and all the purchasing information.